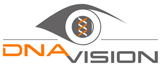 DNAVision was founded in 2004 and is a leading European genomic services provider with proven expertise in molecular biology, specifically in genetic and genomic analysis. Using state-of-the-art technologies and methods validated in a high quality environment, DNAVision provides a wide range of analytical services designed for research institutes, the pharmaceutical and agri-food industries and healthcare professionals. The core mission of DNAVision is to develop high quality pioneering services arising from the latest genomic research and next generation sequencing. Some of the core activities carried out at DNA Vision are:
Complete genome, exome or transcriptome sequencing at R&D and diagnostic grades
Targeted resequencing of specific genes responsible for disease (clinical diagnostics)
Metagenomic services to characterize microbial population.
Since 2012, DNA Vision is the sequencing facility of a National Reference Hospital for virome characterization and virus discovery for diseased patients.
Regarding Quality Assurance, the ISO17025 (BELAC 293-TEST) and CAP/CLIA accreditations (CAP #7205911 and CLIA #99D1055506) enables DNAVision to provide methods validated in a high quality environment and guarantee the quality of the results for diagnostic use. DNAVision method accreditation includes low throughput activities as SNP identification (qPCR Taqman MGB assays and Sanger sequencing) and high throughput activities such as exome sequencing.