Ecological analysis of the plant virome structure and of reciprocal transfers between cultivated and wild host populations
Deborah Schonegger / Inra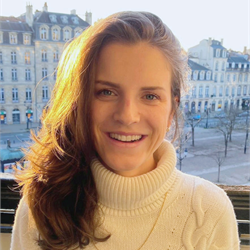 Deborah Schonegger
I am fascinated by the biology and ecology of viruses and I love to work in an international environment.
Profile
During my studies at the University of Innsbruck I had the possibility to gain insights into various fields of Microbiology and Molecular Biology. My master theses project aimed to study the effects of biomass fly ashes on soil microbiota and crop with a special focus on phosphorus, one of the main limiting nutrients in terrestrial ecosystems. Thereupon I was part of a research project at the Department of Ecology of the University of Innsbruck where I was contributing to the development and application of diagnostic PCR-Assays (multiplex PCR, ddPCR) for the detection of viral and bacterial RNA and DNA.
My thirst for knowledge is not limited to my field of research. I love to learn new things such as trying out new recipes and cooking for friends or playing new songs with my guitar. I practice a lot of yoga and in winter I love to go skiing.